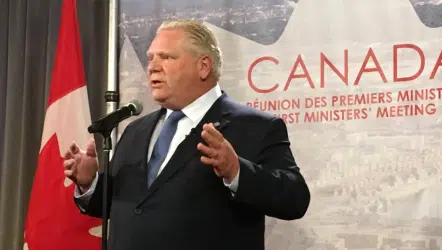 Premier Doug Ford is continuing his attack on the federal carbon tax.
Talking to reporters after the First Ministers Meeting in Montreal, Ford criticized what he calls a job-killing tax.
He says the federal carbon tax is like competing with one hand tied behind your back.
"The goal posts changed when I said 'it doesn't matter how we get there as long as we hit 30 per cent.' What I was told from the Prime Minister is, well, no that's not the case now." Ford says that he was told some provinces, particularly Ontario, "will carry more water than other provinces."
The Premier of Nova Scotia, Stephen McNeil, disagreed with Ford's statement saying the Prime Minister has been very clear from the beginning.
McNeil also said the Prime Minister never said other provinces would have to do more work than others.