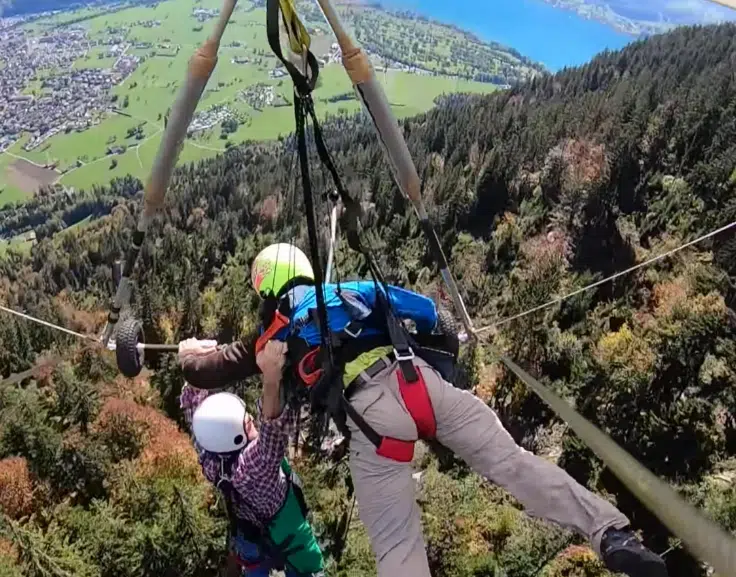 This video is CRAZY. An American tourist in Switzerland decided to give hang gliding a go. Well, the gliding had a heavy emphasis on "hang". Chris Gursky's instructor allegedly forgot to attach his safety harness. The video shows him hanging on for dear life. He managed not to drop, but after a rough landing, he ended up fracturing his wrist which required surgery consisting of a titanium plate and screws, and tore his bicep as well. Believe it or not, he wants another shot at hang gliding. In the description for his YouTube vid of the incident, he wrote: "I will go hang gliding again as I did not get to enjoy my first flight," … Check out the insane video at the end of this post.
I admire his moxie, but I have a different philosophy after a close call. I'm over risky adventures after I almost got killed by a Groupon Coupon.
When we lived in Calgary, a Groupon deal for whitewater rafting popped up. I didn't really want to go, I had been rafting already and it was fun but it was kind of a "been there, done that" feeling. To be brutally honest, the last time my arms got really sore from paddling so hard, so overall, it was just laziness. But it was a great deal so my wife, myself and our good friends Katie and Kris decided to hit the road to Golden B.C. to tackle the mighty Kicking Horse River. The sea (river) was angry that day, my friends! The rapids were rolling so hard that instead of going the full way down the river course, we could only go down the first portion, double-back, and go down it again. Our instructor and raft captain was a charming Frenchman by the name of Pierre. While all the other raftains (did I just invent that term?) sat upon a hydraulic seat at the back of their boats, Pierre sat on a thin old wooden plank. Pierre regaled us with tales of his adventures over the years. He'd only flipped the boat 4 times, and 3 of those were with friends where they really pushed it and were pretty much asking for it. We were in expert hands.
The first pass was so fun. We had an absolute blast. When we bussed back up to the top to start again, Pierre asked the magic question: "Do you want to push it a little this time?" Of course we were down. Once again we were bouncing down the Kicking Horse, having the time of our lives but then, it happened. We went up this rapid and shifted sideways on the way down. The raft flipped. They had given us training beforehand. In the event of finding yourself under the boat, you push yourself out. If you're holding onto the rope on the side of the boat, you extend your paddle for others to grab hold of. I was under the boat, right away I panicked about where my wife was. I pushed off to get myself out of there alright, but I did it so hard I popped up about 15 – 20 feet downriver from the raft. Kris, my good pal, was there like a hero, holding onto the rope and reaching out as far as he could with the paddle, I swam toward him as hard as I could but I didn't quite have the jam to get it done. And then, I was off. Careening down the river. I got turned around backward and my tailbone hit a rock so hard that my knees hit my teeth and split my lip open. I tried to do everything I was taught to do. I was actually pretty calm but the whole time I was thinking about my wife and Katie. I didn't see either of them after we flipped, and prayed they weren't in my situation. My life jacket kept me from sinking but the rapids were the problem (along with the freezing water.) They were splashing all over my face making it hard to breath. I made a whistling shape with my mouth (ironic considering I can't whistle) and filtered in oxygen that way.
Meanwhile, back at the raft, Pierre lived up to the hype. The others describe him as almost floating out of the water like a super-hero, snatching the gals out of the water and up on top of the over-turned boat. Kris had slipped off the side and grabbed a rock on the side of the shore. Pierre asked if he was okay. He said he was but getting out was easier said than done. The rapids made it almost impossible for Kris to climb out, but he made it eventually. As for my wife, she had no clue where I was. Katie, whose husband was currently slipping off of a rock on the side of the river, tried to reassure her as she screamed "MY HUSBAND'S DEAD!"
Let's head back down river. It was the first time I had ever thought that this might be the end. I clearly remember thinking, my mom is going to be so mad that I did something like this and perished because of it. I was smashing off of various things and was pretty roughed up. My little wet suit boot came off and I thought, "Oh great, they're going to find me NAKED!" And then … I heard it. "Don't worry buddy, we're going to get you!" There was one raft left up ahead of me. It literally took everything I had left to look over my shoulder and see the raft, and turn over. My face slammed into it and they grabbed my life jacket before I went under it. Those folks deserve high praise for being able to haul this dead weight body up into the boat. It could not have been easy. They told me that my wife, Katie and Kris were okay. Happiest news I ever heard. We had a surreal reunion on shore and limped to the bus. Battered, bruised, and short one wet suit booty. Back at the whitewater rafting company headquarters, everyone got a beer as part of the package. Not me. "Two beers for the swimmer!" #worthit
Long (loooong) story short: Good for Mr. Gursky for wanting to get back out on that hang glider. My white water rafting experience was super fun, and I'm not trying to discourage anybody from having awesome adventures. But, after going down river, I think I'm done with stuff like that. When people tell me they are going to do something like white water rafting, I feel it's my duty to tell them that the risks are real. The worst outcome is a legit possibility. Or it could turn into a good story to tell, one more beer than everyone else, and a tailbone that hurts if you sit too long. On that note, after this ridiculously long blog, I need to get up and walk around.