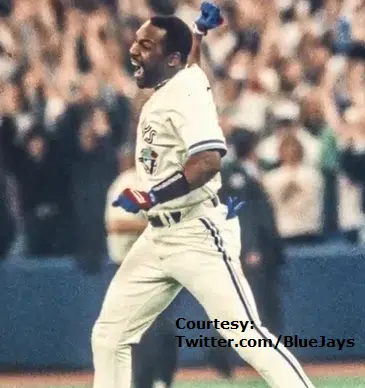 My favourite "Where were you when?" moment of all-time occurred 25 years ago today. October 23rd, 1993, the Toronto Blue Jays vs. the Philadelphia Philles in Game 6 of the World Series. The Jays are leading the series 3 – 2, but are  down 6 – 5 in the bottom of the ninth inning. Joe Carter at the dish. Men on first and second with a count of 2 – 2, and then … it happened. Joe Carter hit a home run. I was at my house and partied along with the rest of the country. Tom Cheek's call,"Touch 'em all, Joe, you'll never hit a bigger home run in your life.", has become iconic.
Hard to believe it's been 25 years. Joe Carter was already my favourite baseball player and this drove it home, so to speak. He was also my Grandma Kay's favourite. She had an autographed photo of him hanging in her kitchen. "To Kay, all the best, Joe Carter". She called him "My Joey." She was so delighted that her Joey hit that home run. Years later, I got to meet Joe. He was the class act that he always appeared to be, and then some. I even got an autograph. "To Kev, all the best, Joe Carter".
Here's the clip of that magic moment. Where were you? Let me know in the comments.